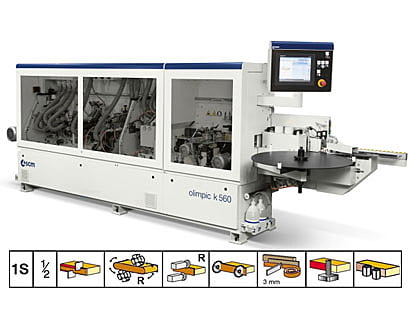 Edge Banders
Edge Banding machine is the most complex machine in any furniture-making workshop or factory doing the panel processing, cabinet making, manufacturing modular kitchens, modular wardrobes, office cabinets, storage units, door manufacturing etc.
Applications:
The panel that is cut on the panel saw, or CNC beam saw, needs to be edged for protection from moisture and to give finishing to the edge with PVC, ABS, veneer or solid wood edge bands. In the edge banding, the machine panel is moving, and the units are also moving, and the edge thickness can be as thin as 0.4mm to 12mm. The finish of the edge bander machine needs to be good on day one and even years down the line. Any compromise on the quality of the edge band machine will lead to an impact on the per square foot​ rate of the panel or furniture thus, the edge bander is one of the most important machines in the furniture-making woodworking industry.
Functions of Units
The edge bander's minimum-maximum thickness and height of the panel is to be kept in mind when choosing the machine. Overall productivity depends on the set-up time and cycle time. Set-up time includes the change of the glue type and/or colour, change of the edge band's thickness and/or height if the panel needs to be pre-milled and/or the corner needs to be round. Cycle time is the per metre speed of the track of the edge banding machine that can range from 5 metres/min for workshop duty edge banding machines, 9-18 metres for larger woodworking workshops, 20-30 metres/min for industrial edge banding machines for large high production furniture making factories. Thus the capacity of the edge banding machine and its configuration should be chosen depending on the workshop size, cutting productivity and number of panels or components to be produced per shift.
The type of glue needs to be decided before the configuration of the edge banding. Standard glue is EVA and PUR. For E.g. when using PUR glue, it is recommended to have an anti-adhesive spray, glue scraper and quick change of the glue pot. This will help the modular furniture manufacturer to change the glue from EVA to PUR and/or from natural colour to white.

The electrical and pneumatic components play an important role in the downtime of the edge band. Kindly ensure good quality of power, good quality of air, good quality of dust collection, timely lubrication and good housekeeping of the machine. We at caple.in install, train, service and maintain the edge banding machines for our customers with spare parts back up at our warehouse and/or do not hesitate to down our demo machine and support the customer in case of an emergency spare part requirement.