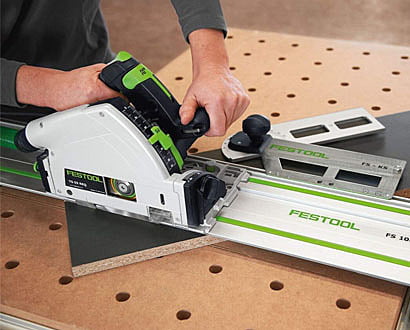 Electric Circular Saws
A track saw is a type of power saw designed for making straight and accurate cuts on large sheets of wood, panel materials, or other materials. It consists of a circular saw blade mounted on a track, and the track acts as a guide to ensure that the cuts are straight and accurate. The track saw is typically used by carpenters, cabinetmakers, and other woodworkers to make cuts on large sheets of material that are too big to be cut accurately on a table saw or other types of saws. The track helps give a straight cut and adds a splinter guard to avoid splintering on the top surface.
The track saw is portable, making it easy to transport to a job site or to move around a workshop. The saw blade is adjustable, allowing the user to make bevel cuts at different angles in a speedy way. The depth of the cut can also be adjusted, making it possible to make cuts through multiple layers of material. A track saw is a versatile tool used to make cuts for various applications, including cabinetry, furniture making, and flooring installation.