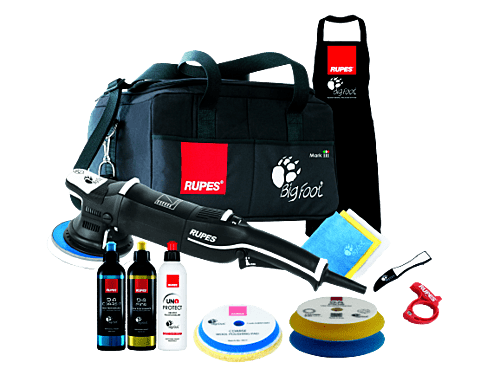 Polishing Machines
Buffing and polishing pads apply polishing compounds and bring a high-gloss shine to various surfaces. Some common types of buffing and polishing pads include
Foam Pads: Foam pads are soft and flexible and come in various densities and shapes. They are used for light polishing and are best suited for softer materials.

Wool Pads: Wool pads are made from natural or synthetic fibres and are used for heavy cutting and removing imperfections. They can be used with a rotary or random orbital polisher.

Microfiber Pads: Microfiber pads are made from synthetic fibres and are gentle on surfaces. They are best used for applying waxes and sealants, as well as for final polishing and buffing.

Terry Cloth Pads: Terry cloth pads are made from soft cotton material and are used for final buffing and removing hazy residue. They are typically used with a rotary or random orbital polisher.

Sponge Pads: Sponge pads come in various shapes and densities and are used for light polishing and buffing.
It's important to choose the right type of buffing and polishing pad based on the surface you're working with and the type of polishing compound you're using. Different pads have different levels of abrasiveness and can affect the final outcome of your polishing project.
Choosing the correct polishing compound is important for achieving the desired finish on your workpiece. When selecting a polishing compound, consider the following factors:
Material: Choose a polishing compound appropriate for the type of material you're working with, whether metal, plastic, glass or some other type of surface.

Condition of the surface: Consider the condition of the surface, such as whether it's rough, dull, scratched, or has other imperfections, and choose a polishing compound designed to address those specific issues.

Desired finish: Determine the level of shine you're looking to achieve and select a polishing compound formulated for the specific level of gloss you want.

Equipment: Consider the equipment you'll use for polishing, such as a rotary tool, buffer, or sander, and choose a polishing compound that is compatible with your equipment.

Safety: Look for polishing compounds formulated with safe and non-toxic ingredients, especially if you use them in a confined space or around food.
Try out a few polishing compounds on a small test piece to determine which will give you the desired result before applying it to your final project.