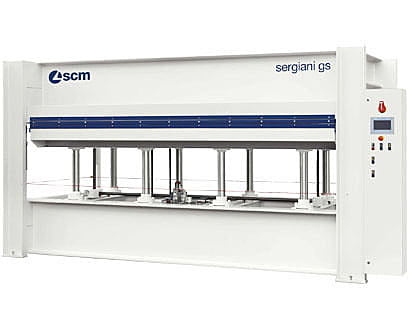 Hot Press
A hot press is a machine used in woodworking and laminating to produce flat and composite panels. It consists of two heated platens that press together with a controlled amount of pressure, heat, and time to bond materials together. Hot presses produce plywood, particleboard, laminate flooring, laminated panels, veneered panels, and medium-density fiberboard (MDF). They are also used to manufacture other composite materials such as laminates, veneers, and engineered woods. The hot press process involves laying a stack of material (laminate- Board- Laminate) between the heated platens, closing the press, and applying heat and pressure to bond the layers. The resulting panel has a smooth, uniform surface and is strong, stable, and resistant to moisture and warping.
When purchasing a hot press, there are several key features to consider:
Size and capacity: Consider the size and capacity of the hot press, and make sure that it can accommodate the size and weight of the materials you want to press. The common sizes are 8'x4', 10'x4' single, double and three daylight.

Temperature control: Consider the temperature control system, and make sure that it is accurate and consistent and can reach the temperatures you need for your application.

Heating system: Consider the heating system, and make sure that it is efficient, energy saving and reliable and that it can heat the press evenly and quickly. The platen can be electric fired, thermic oil heated or steam boiler heated.

Pressure control: Consider the pressure control system, and make sure that it is precise and consistent and can apply the amount of pressure you need for your application.

Safety features: Look for safety features such as emergency stop switches, pressure relief valves, and safety guards to help ensure the safe operation of the machine. There should be safety in case the panels are placed in an imbalanced manner.

Ease of operation: Consider the machine's ease of operation, and make sure that it is straightforward to use with PLCs.

Maintenance: Consider the machine's maintenance requirements, make sure that it is easy to maintain and repair and that spare parts are readily available.

Price: Consider your budget, volume, working hours and ensure that you get a hot press that provides good value for the price and meets your needs and requirements.
Considering these features, you can find a hot press that is right for your needs and will provide efficient and effective pressing performance.