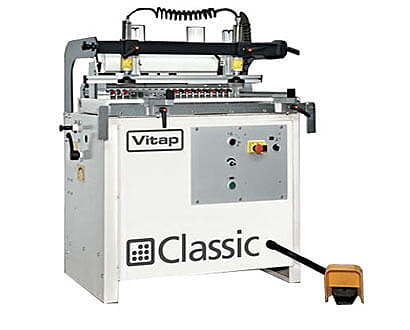 Single Head Multi Boring Machines
A single head multi boring machine, also known as a single-spindle multi boring machine, is a woodworking machine used for drilling holes in various materials such as wood, panels, and solid wood components. It is designed to efficiently and accurately create multiple holes simultaneously or sequentially.
The primary function of a single head multi boring machine is to drill holes in wood or wood-based materials for various purposes such as furniture manufacturing, cabinet making, and woodworking projects. It allows for precise and repetitive hole drilling.
A single head multi boring machine typically features a single drilling head or spindle. The drilling head can be adjustable, allowing for vertical, horizontal, or angled drilling. It may also have multiple spindles attached to it, enabling the machine to drill multiple holes simultaneously.
Single head multi boring machines are capable of drilling holes in various patterns. Common hole patterns include line boring (rows of holes in a straight line), grid patterns (holes arranged in a grid formation), and custom patterns based on specific requirements.
Single head multi boring machines come with adjustable drilling depths and can accommodate different hole diameters. The maximum drilling depth and hole diameter depend on the specific model and capabilities of the machine.
Some single head multi boring machines are equipped with automation features, such as pneumatic clamping systems, automatic feeding, and programmable control panels. These features enhance productivity and ease of operation.
Single head multi boring machines are designed to deliver precise and accurate drilling results. They often incorporate features like digital depth indicators, laser guides, and adjustable fences to ensure consistency and accuracy in hole placement.
Single head multi boring machines find applications in various woodworking industries, including furniture manufacturing, kitchen cabinet production, door and window production, and general woodworking projects. They are suitable for drilling holes for shelf pins, dowels, hinges, and other joinery elements.
When using a single head multi boring machine, it is essential to follow safety guidelines and wear appropriate protective equipment. This includes safety glasses, hearing protection, and following proper operating procedures to prevent accidents and injuries.