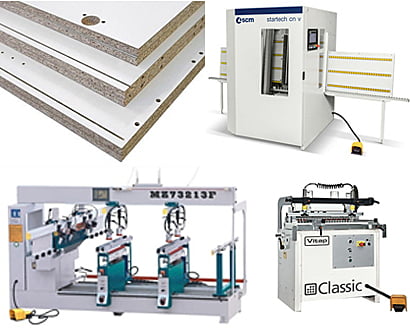 Multi Boring Machines
Application:
A drill can be made by the cheapest possible hand drill machine on the market. No customer would appreciate the beauty of the drill hole. But a drill hole that is not as per the alignment or hardware would affect the quality of the furniture and/or its smooth functioning. Thus a multi-boring machine is one of the most important machines in panel processing and cabinet making with applications like manufacturing of modular kitchens, manufacturing of modular wardrobes, manufacturing of office cabinets etc. If the drilling is perfect, then the function and life of the hardware will increase.
Functions & Uses
Multi Boring machines come in a single head, double heads, three heads and more on the classical level. In classical machines, the set-up time is more. Point-to-point CNC Multi boring machines are used for flexibility and/or productivity. The set-up time in CNC multi-boring machines is less, but the flexibility is much higher.
The choice of the multi-boring machines should be aligned to the press, cutting and edge banding capacity and/or the number of panels/components that are to be processed per shift.
The centre distance between the two drills is designed to be 32mm. The entire hardware industry is designed to work on the same pitch and is called system 32.
At caple.in you will get to choose and compare between power tools, jigs, classical multi boring machines, CNC machines and industrial high-speed multi boring machines.