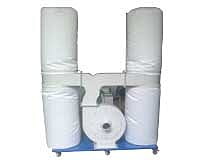 Dust Collection & Pollution Control Equipment
A multi-bag dust collector is an air filtration system used in woodworking and other industrial applications to capture and remove dust, debris, and other particles generated by manufacturing processes. It typically consists of a blower or fan that creates suction to draw in the contaminated air, a filter system to capture the particles, and a collection bag or container to hold the captured debris.
Multi-bag dust collectors typically have multiple bags, allowing for a more efficient collection of dust and debris and longer periods between maintenance or bag changes. Some multi-bag dust collectors use bags made of felt or other materials, while others use filter cartridges made of synthetic media. The filter bags or cartridges trap the dust and debris, and the clean air is then expelled back into the work environment. Multi-bag dust collectors are designed to provide a clean, safe work environment by removing airborne particles that can cause health problems or damage to equipment. They are commonly used in woodworking shops, metalworking shops, and other industrial settings.