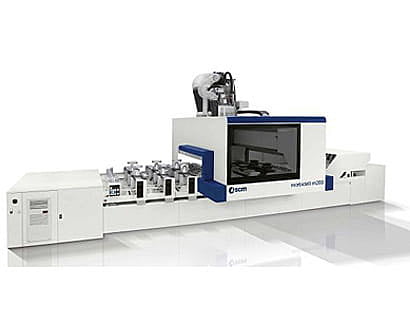 CNC Routers
A CNC router is a computer-numerically controlled machine that uses a cutting tool to remove material from a workpiece and create a specific shape or profile. It is commonly used for woodworking, plastics, aluminum, and other materials. A CNC router typically consists of a cutting tool attached to a gantry that moves on a set of linear guides.
The cutting tool is controlled by a computer that runs specialized software that allows the user to input designs and cutting instructions. The software controls the movement of the cutting tool, ensuring precise and accurate cuts. The cutting tool can be changed to accommodate different materials, shapes, and profiles, making CNC routers highly versatile. CNC routers are commonly used in manufacturing, woodworking, and prototyping applications. They offer high levels of accuracy and consistency, as well as the ability to produce complex shapes and profiles.
When purchasing a CNC router, there are several key features to consider:
Work area: Consider the size of the work area and ensure it is large enough to accommodate the size of the materials you want to work with.

Cutting speed: Consider the machine's cutting speed, and ensure it is fast enough to meet your production needs.

Cutting precision: Consider the cutting process's precision, and ensure that the machine can make accurate and consistent cuts.

Material compatibility: Consider the materials you will be working with, and make sure that the machine is compatible with those materials and can handle the material's thickness and hardness.

Spindle power: Consider the power of the spindle, and make sure that it is strong enough to handle the cutting tools you need.

Tool changes: Consider the tool-changing system, and make sure that it is easy to use and allows you to change tools quickly and easily.

Software compatibility: Consider the machine's software compatibility, and make sure that it works with the design software you are using and that it is easy to operate.

Dust collection: Consider the dust collection system, and make sure that it effectively removes dust and debris from the work area.

Safety features: Look for safety features such as blade guards, push sticks, and emergency stop switches to help ensure the safe operation of the machine.

Price: Consider your budget, and ensure that you get a CNC router that provides good value and meets your needs and requirements.
By considering these features, you can find a CNC router that is right for your needs and that will provide efficient and precise cutting performance.