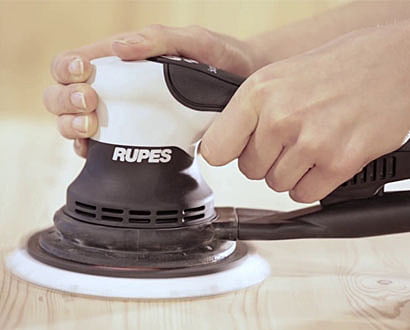 Hand Sanding Machines
There are several types of handheld sanders, including
Orbital Sander: This type of sander uses a round sanding pad that moves in an orbital motion. It's best for removing material and sanding smooth surfaces.

Belt Sander: This sander uses a sanding belt that rotates around two pulleys. It's best for heavy-duty sanding tasks such as removing paint or smoothing rough surfaces.

Detail Sander: This type of sander has a triangular or square sanding head, making sanding tight spaces and angles easier.

Random Orbit Sander: This type of sander uses a round sanding pad that moves in an orbital and rotational motion, producing a random pattern. It's best for sanding fine details, removing swirl marks, and preparing surfaces for finishing.

Sheet Sander: This type of sander uses a flat sanding sheet attached to a rectangular sanding pad. It's best for sanding flat surfaces and preparing them for finishing.

Drywall Sander: This type of sander is specifically designed for sanding drywall surfaces. It has an extended handle and a large circular sanding head to make sanding large, flat surfaces easier.
Each type of handheld sander is designed for specific sanding tasks, so choosing the right one is important.
When purchasing a handheld sander, consider the following features:
Type of sander: Consider whether you need an orbital sander, random orbital sander, belt sander, oscillating sander, long neck sander, or another type.

Power source: Consider whether you want a corded or cordless sander. Corded sanders provide constant power, while cordless sanders offer greater mobility.

Size and weight: Consider the size and weight of the sander, especially if you will be using it for long periods or in tight spaces. A lighter sander will be easier to manoeuvre and reduce user fatigue.

Dust collection: Consider the dust collection system, especially if you are concerned about dust in the work environment. A sander with a built-in dust collection system will help keep your workspace clean and free of dust.

Speed control: Consider whether the sander has adjustable speed control. Adjustable speed control will allow you to match the speed of the sander to the task.

Ergonomics: Consider the grip and overall design of the sander. A comfortable grip and well-designed handle will reduce hand fatigue and improve overall control.

Price: Handheld sanders can range from a few dollars to several hundred dollars. Consider your budget and choose a sander that meets your needs and budget.
Considering these factors, you can choose the best handheld sander for your needs and ensure that you have the right tool for the job.