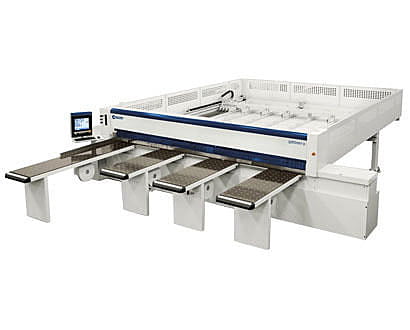 Beam Saws
A beam saw is a woodworking machine that cuts large sheets of wood, particleboard, MDF, or other materials into smaller pieces or components. It typically consists of a saw blade mounted on a stationary beam and a movable carriage that holds and moves the material to be cut. The panels in a stacked book form are pressed on the beam and then the blade is cutting and moving. Beam saws are used in furniture, cabinetry, and other wood products and are designed to make accurate, precise cuts with high production efficiency. The saw blade is mounted on the beam and is powered by an electric motor. The material to be cut is loaded onto the carriage and is moved along the beam, guided by a fence or stop, to make the desired cuts. Beam saws are typically equipped with automatic feeding systems. They can make multiple cuts in a single pass, making them a highly efficient and cost-effective cutting solution for large-scale production.
When purchasing a CNC beam saw, there are several key features to consider:
Cutting capacity: Consider the cutting capacity of the saw and make sure that it can handle the size and thickness of the materials you want to cut. Also consider your current and future production requirements.

Cutting precision: Consider the cutting process's precision, and ensure that the machine can make accurate and consistent cuts.

Material compatibility: Consider the materials you will be working with, and make sure that the machine is compatible with those materials and can handle the material's thickness and hardness.

Blade size: Consider the size of the blade, and make sure that it is large enough to handle the materials you want to cut and that it can produce the type of cuts you need.

Blade speed: Consider the blade's speed, and ensure that it is fast enough to meet your production needs.

Blade material: Consider the material of the blade, and make sure that it is durable and suitable for the type of materials you want to cut.

Automation: Consider the automation features of the machine, and make sure that it is easy to operate and allows you to control the saw and the cutting process automatically.

Dust collection: Consider the dust collection system, and make sure that it is effective at removing dust and debris from the work area.

Safety features: Look for safety features such as blade guards, push sticks, and emergency stop switches to help ensure the safe operation of the machine.

Price: Consider your budget, and ensure that you get a CNC beam saw that provides good value and meets your needs and requirements.
Considering these features, you can find a CNC beam saw that is right for your needs and will provide efficient and precise cutting performance.